Beachcrest Brewing brings a taste of Colorado to the central Oregon coast
Jamie Hale/The Oregonian
Oregon's craft brewery scene has no shortage of colorful characters, so it should come as no surprise that two jazz musicians from Colorado are making mole stouts on the coast.

On New Year's Eve, former Denver residents Amy and Matt White celebrated the grand opening of Beachcrest Brewing Co., a small, family-friendly taproom in Gleneden Beach that has already carved out a niche in the crowd of craft breweries on the Oregon coast…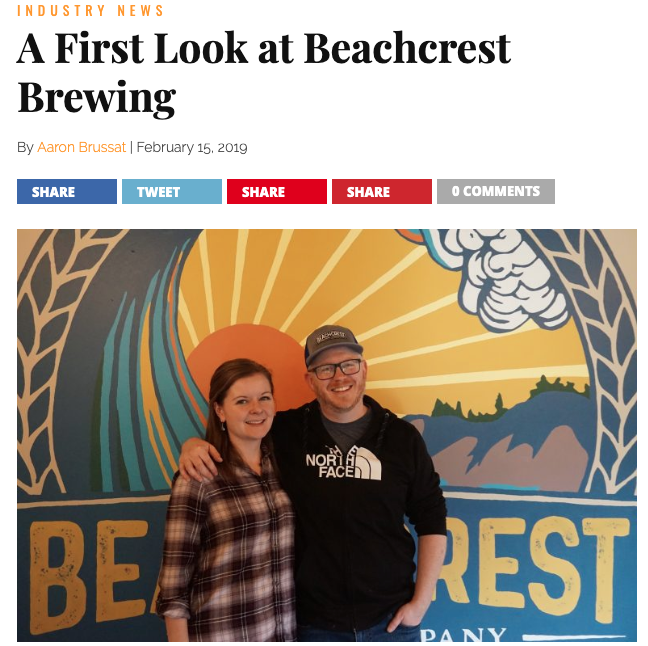 A First Look at Beachcrest Brewing
Nestled in the Salishan resort near Gleneden Beach, 20 minutes north of Newport, with a view over Hole 10 to the Siletz Bay, Beachcrest Brewing held its grand opening this New Year's Eve. The 3.5-barrel brewery and taproom is the brainchild of former music teachers Amy and Matt White and is poised to serve the local community and passers-through with good beer.
Matt and Amy moved out from Denver, Colorado, where they moonlighted at breweries and homebrewed in addition to performing and teaching music. They took on two other partners to help start the business who still live in Colorado and help run the financial end of the operation…
Ride a Wave to Beachcrest Brewing
In seven years of Beerchasing, I have been impressed with the number of brewery owners who started homebrewing as a hobby and ultimately became micro-craft entrepreneurs after diverting from their original career paths. They have ranged from lawyers, teachers, accountants, contractors and public servants to former bartenders.
Our recent visit to the new (December, 2018) Beachcrest Brewery and Pub was the first time that I've met two college music majors and former musicians who decided to partner with another couple and embark on a suds-oriented business venture….
From Astoria to Newport, 12 breweries that make the Oregon coast a beer lover's paradise

By Jamie Hale | The Oregonian, OregonLive | Posted March 09, 2019 at 08:00 AM | Updated March 12, 2019 at 04:53 PM

The Oregon coast remains one of the premier destinations in the Pacific Northwest, and in recent years it's also become home to one of the best beer scenes around…